| | |
| --- | --- |
| Please follow these easy steps to start watching GUDA TV on Roku! | |
პირველი Roku აპლიკაცია Roku-ს არხების ჩანართებზე
არხები თქვენს Roku-ზე შესაძლებელია დაემატოს Roku-ს ვებ-გვერდიდან.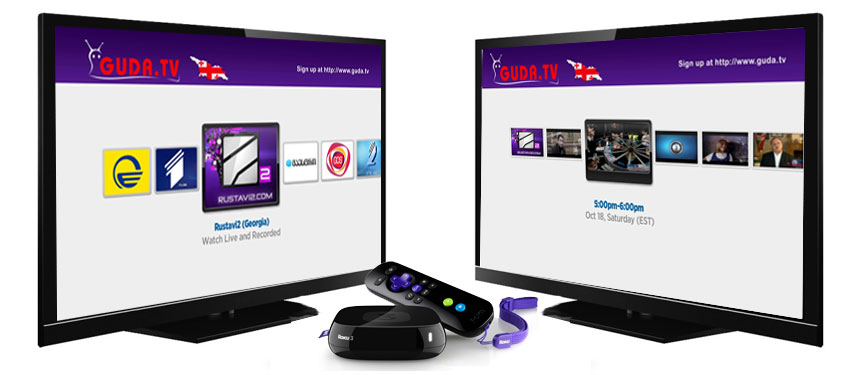 1. Go to Roku Channel store and find us at Roku channel store under International section.
Note to Roku Customers: GUDA Roku apps is not available in USA and Canada. It is available worldwide.


2. GUDA TV can be also added directly to your Roku from the Roku website. Sign into your Roku account at
http://www.roku.com by using your roku account.

Click on My Account on the top right, then Add a Private Channel. Enter "gudatv" and click Add Channel
or visit https://owner.roku.com/add/gudatv to add directly to your Roku.

3. Start your Roku and check if the new app shows up in your channel list. If it does not, you can go into
your Roku settings, and check for updates in the System update section. This should download the app.

Once downloaded, the app will appear in the My Channels section of your Roku. Open it to watch the live
by clicking the thumbnail that says "GUDA TV"

4. After that click the GUDA TV channel and you will be asked to enter your GUDA TV account.
Enter your login information. Now sit back, relax and choose your favorite GUDA TV channels and programs.